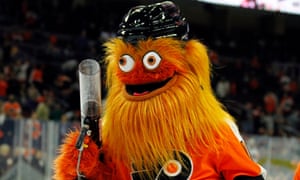 For this afternoon's game I decided to try something different – being that the weather was in the high 50's and might be the nicest day left that we get until 2019, I wanted to be outside, but a 1 PM matinee start makes it difficult to both watch the Devils game and enjoy the outdoors.  So I gave the MSG GO app on my phone a try and watched most of today's game on there.  While it was fine for a one-off and served its purpose of getting me outdoors, can't say I'd recommend doing it on a regular basis unless you have to…oh the feed did work about 90% of the time but wasn't always HD-focused and at times would lag and freeze before coming back and then randomly going forward thirty seconds to a minute to catch up.
Perhaps that was a bit fitting for what the game turned out to be.  Quite succinctly it was basically mites on ice at the NHL level, not a game either team deserved to win but ultimately the Flyers were the better team 5-on-5 and more disciplined at the right times, while for the second straight game a late mistake cost the Devils at least one point and a chance for two in the last five minutes of the third period.  In a vaccum, 4-2 is still fine but these lost points are no bueno, it could definitely prove to be the difference down the road in what should be a tight playoff race.  Even the captain made that observation after Thursday's game:
It seemed from even before puckdrop that the Devils were scrambling from the staff on down, with both Travis Zajac and Ben Lovejoy out with lower body injuries, New Jersey made a roster move calling up center Kevin Rooney and sending down John Quenneville.  Ostensibly because Rooney can play on the penalty kill and they need a center…well you could have just played Quenneville at center and used someone else on the PK.  Granted the PK was fine considering all the penalties that were being taken – most by the best PK'ers left – but Rooney really had little to do with it (especially being in the box for one of them) and looked even worse than Quenneville or Drew Stafford, who also hasn't impressed in his two games back in the lineup.
Really it wasn't the roster machinations that cost us although it is worth noting we've now had two dud performances since coach John Hynes 'changed a winning lineup', though granted it would have been changed for him today regardless.  I would have been better off skipping this game too.  Seemed like most of the Devils mentally checked out of the game with penalty after penalty after penalty in the first two periods, before the refs put away the whistles just in time for the Flyers to clamp down in the third period legally and illegally.  Ironically our only two goals of the game came on the PP, as special teams nearly stole us a point or two with four crucial penalty kills (out of five chances) in the first two periods.  Some timely shotblocking also helped us stay close, though admittedly I kind of wince when we start playing like the 2012 Rangers.  That kind of over-the-top shotblock style shortened the careers of guys like Ryan Callahan and maybe one or two of their defensemen.
Today's game was so bad even Nico Hischier earned an early third-period benching, in part because of bad defense on the Flyers' go-ahead goal late in the second period (ironically by draft rival Nolan Patrick).  To twist an old Lou axiom, our best players certainly weren't our best players other than Sami Vatanen who played nearly thirty minutes in all situations and held the fort down once the Devils lost poor Steven Santini early.  Playing his first game in the NHL since January, Santini got his jaw broken after just a couple of shifts and now he can commisserate with Jesper Bratt, who seems to be almost on the mend from his own broken jaw.  For the most part I liked captain Andy Greene's game too, with one glaring exception…the Flyers' deciding goal in the final minutes of the third period where Greene – for reasons known only to him – decided to make a futile pinch, then Jakub Voracek deked Keith Kinkaid out of his skates toward the middle of the ice where defenseman Damon Severson did nothing but watch Voracek put it into an open net.  A pure comedy of errors and omissions if ever there was one.
Even the game winner wasn't as bad for Kinkaid as his first goal given up to Travis Konecky was, since it went past him shortside and unscreened.  Perhaps the goalie is feeling the heat from a returning Cory Schneider who's playing a rehab game in Binghamton tonight.  In truth, a lot more guys should be feeling heat after two dud games in a row and now the team will have another four days to sit on this loss until they next play on Thursday – and not an easy game at that, hosting the Predators at the Rock.  Maybe getting Zajac and Bratt back will help, perhaps even Cory returns after the break for what that's worth.  Clearly they can't be any worse than they've been the last game and a half without Travis.  You need look no further than the faceoff dot to see his impact…with him we were doing remarkably well on faceoffs, without we were a total disaster today finishing at around 33% on draws.
This mini-break is the first potential crisis point for this Devils team.  Hopefully some practices, a good talking to and injured players returning will lead to seeing the team we saw last year and in the first four games of this season rather than the ugly outfit we saw the last two.  Honestly I didn't even realize till before doing this blog that the score was 5-2, I shut the game off angrily at 3-2 knowing what the result was going to be.  Which isn't a thing I normally do in a one-goal game with five minutes left but this game just had that feel of doom after the comedy of errors on the last goal, and really the entire game.  Honestly Gritty probably would have been better than half the players on the ice.  As usual Brian Boyle had an honest assessment of the team and I'll leave that as the last word on this debacle: