Perhaps it's a good thing my recap streak ended yesterday. I just couldn't even feign doing a writeup for the Devils' latest fiasco in Chicago on Thursday where they blew another early 2-0 lead and once again Cory Schneider skated off a loser in a game that largely wasn't of his own doing. Still, five unanswered goals against was one more depressing result in a year full of them, for team and Cory alike. I was unable to watch much of Thursday other than bits and pieces of the game coming apart in the third period, and just couldn't watch tonight. Not only cause I figured on another disaster in Minnesota, but because I'd gotten little sleep the night before and really had no time for a recap anyway till I got home today where I just had to conk out. Catching up on sleep was more important than a meaningless game or complaining recap, hence my late-night blog (more than an actual recap) now.
When I initially saw the Devils won in OT on Twitter after waking up from my long nap/sleep, I was bemused. It was like oh whoopee, NOW they get a meaningless OT win. It was only after scrolling Twitter a little more that I found out the salient details – specifically that tonight's starter Keith Kinkaid was pulled at 4-1 and Cory played well enough in relief for finally – FINALLY! – some good fortune to come his way as the Devils managed a stirring comeback to win 5-4 in OT that meant more to one player than anyone else on or off the ice.
Which isn't to say that his teammates, the fans or team employees like Steve Cangialosi (listen to the emotional call above) also didn't gain a lot of satisfaction from seeing that ridiculous twenty-one game regular season losing streak finally come to an end for Cory. In fact, to his credit Cory wasn't whooping it up in an emotional fit after finally getting back into the win column at the NHL level since December…of 2017. I'm sure he had an ear-to-ear smile underneath his mask and understated reaction though. Much like the one screenshotted here with Cory the only possible recipient of the team's helmet for unsung hero of the night.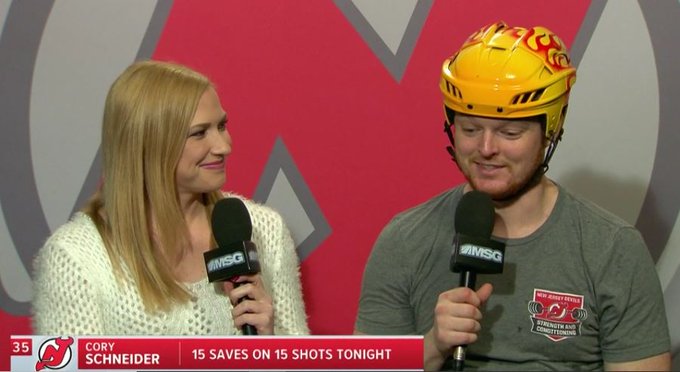 Obviously this game won't mean anything to the standings – for us at least, for the Wild it's another story. In fact you can already hear the moaning from the fanbase about the two points possibly decreasing our lotto odds. Still, this team needs to find out whether they can possibly get anything out of Cory for the rest of his contract before they're forced to make a potentially onerous financial decision on him this offseason. I've said all along I'd like to see how Cory plays once he got the monkey (which grew into a gorilla) off his back, well now he's done it and everyone can breathe a sigh of relief.
And yes I'm aware the 'winless streak' comes with an asterisk because Cory actually did get a win that counted – in the playoffs last Spring. Still, you could tell the 0-for the regular season and 0-for-2018 weighed on everyone's mind, so it mattered even though it was a bit of a manufactured stat. It's useless to make the case it was a faux stat when it wasn't. In some ways it's telling Cory played his best hockey in 2018 during the playoffs when the 0-for the regular season stat was not an issue either way. You could tell it mattered to the team too with their nervous play in close games during the streak, from the bad offense against the Islanders last week to the own-goal fest in Anaheim earlier this season.
Yes, the waiting is indeed over for Cory and the franchise. Yesterday in Chicago no longer matters. Our comeback and five different goalscorers tonight to salvage two points out of the road trip are incidential to the only story of this weekend for the Devils and Cory Schneider. Even in victory the poor guy couldn't resist some self-deprecating humor when being presented with the helmet during the postgame.
No apologies needed at this point…now it's time to just play hockey for the rest of this season and see what this player and team can get out of the final twenty plus games of the campaign.