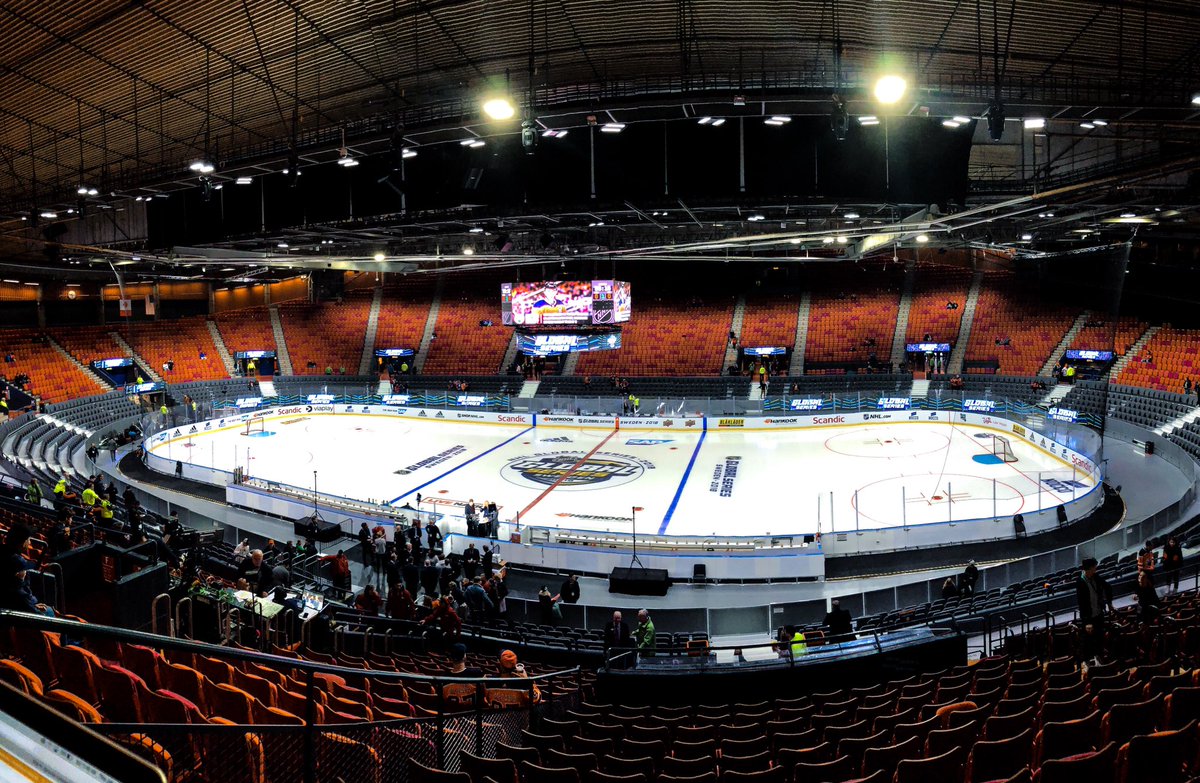 After five and a half months with no meaningful Devils games, hockey has officially returned today with the Devils' overseas showdown against the Oilers kicking off at least another 82-game campaign through the beginning of April (and hopefully more after that!).  Instead of doing more or less boilerplate recaps this year – which quite honestly you can get almost anywhere in this day and age – I'm going to try more of a personal stream of consciousness type of summary for each game and see how it goes.  Not a livecap perse, although today I might be writing during the pregame and commercials since I'll be home, but instead of dryly going through what happened, I'll more or less try to add my own thoughts and observations while it was happening.  Granted, there are some games I may not be able to do right away or do much on, being that I go to about 25-30 Devil games a year and quite honestly the West Coast weeknight games are usually not a high priority for me to stay up for.  Maybe there are some cases where I won't have much to say about a particular game and decide to do two at once when the schedule gets tighter.  As I said, this is experimental and perhaps something I go away from in a week or two.  While I do want to document a Devils season that is the most anticipated since 2012 I was getting tired of the same old routine and honestly didn't want to do 82 different recaps otherwise.
Hopefully I haven't lost most of you during that long disclaimer (or won't during this blog, since it may well be the longest blog of the season) and I'll just get on with my gameday thoughts.  In that vein, this morning I felt like the proverbial romanticized baseball fan who worships Opening Day in that sport, with how much I want the season to get underway.  I've spent some time watching video clips of the Devils' media day interviews last month because I hadn't seen them before, and because there's really no other 'season preview' I can watch.  MSG aired a half-hour season preview a couple of weeks ago, I heard the NHL XM one a while back but overall hockey coverage is still woefully lacking in the tri-state area.  Especially when most of the local media and coverage is wrapped up in Yanks-Sawx, which granted I'm paying attention to as well despite being a Mets fan but honestly even if there weren't any MLB playoffs around here too many people still don't give a hoot about hockey.  Horrible Nets and Knicks teams in recent years still get more ink than competitive tri-state area NHL teams during the winters here.
One of the ironic things about having the team overseas is sometimes you wake up to news the way you used to, when news was only broken via newspapers, TV and radio before Twitter and the internet in general started to give second-by-second coverage.  So yesterday morning I woke up with an unwelcome surprise hearing that our young Swedish winger Jesper Bratt broke his jaw with a freak puck bounce off a crossbar, and will be out at least 2-3 weeks including missing his homecoming today (sadface).  Of our three Swedes – Bratt, backup goalie Eddie Lack and forward Marcus Johansson – only Johansson will get to play this afternoon.  Almost immediately after Bratt's injury the Devils moved to sign Drew Stafford, who was traveling with the team on a PTO and I was like whatever…I figured this would happen sooner or later with the first forward injury anyway.  Better Stafford be the on-call guy than some young forward who can develop more in the minors, but that logic escapes a lot of fans who think you should have youth everywhere.
In terms of MSG's own coverage there isn't really a lot of other stuff besides the broadcast itself to discuss…to wit, for every 'Beginnings' episode that has a Devils player (and coincidentally ex-Ranger) like Brian Boyle or recently departed John Moore, there are like twenty that feature Ranger players.  They don't even have the Hockey Night in NY show they used to do on Saturday nights anymore, with commentators from all three teams chiming in on the issues of the week.  Still, the broadcast itself is actually above-average in a lot of respects.  Though new commentators Steve Cangialosi and Ken Daneyko aren't as beloved as our old P-by-P team of Doc Emrick and Chico Resch, Cangi has gradually earned everyone's respect and had a lot of fine calls in his own right during the Devils' stretch run drive last year.  And Dano is well, Dano…nobody can hate on Mr. Devil.
Of course if you still want to listen to Chico, he and fellow long-time MSG/Devils employee Matt Loughlin do the radio – for whatever the heck Internet radio station they're on this year <checks> Entercom on Radio.com <scratches head>.  The days of just tuning into WFAN are sadly long-over with, even if we were pre-empted to an overflow channel too often in the WFAN days.  I do want to watch the telecast today, both because of the different locale (Gothenburg, Sweden!) and to see the difference this year with a new studio host in Erika Wachter, replacing long-time MSG employee Deb Placey who moved onto work for the NHL Network.  I'm not going to get into the eye candy stuff too much even though it doesn't hurt to have a hot blonde who's a Jersey native doing the studio hosting, but she also seems to know her stuff based on what I have observed from the preseason telecasts and she definitely knows sports in general being a multi-sport varsity athlete.
Finally getting to the pregame now, too bad Erika and team analyst Bryce Salvador are both stuck back in the studio and not actually in Sweden with the rest of the crew.  She did point out during the opening segment it was Johansson's birthday – so that makes it a really big day for him, not only to play at home but on his birthday too.  Hopefully he has a good one today, this team needs Johansson to have a better (and healthier) season than he did last year, when his 14 points in 29 games were dissapointing considering the 50+ point seasons he put up in Washington.  Overall, the pregame was more or less a microwave-style preview of the season, after the usual studio info and interview clips of the first segment Erika and Bryce spent the next two segments looking at the goalies/defense and forwards, respectively.  FWIW, Bryce – the former ex-Devil captain himself – is also a very good analyst and worth the watch just to see him break down what happens during the higlights and discussing the team in general.  For all the crap the broadcast gets from time to time the personnel there is fairly solid.
After the pregame, came the intros – somewhat surprisingly announced by Kevin Clark (the Devils' PA announcer), who apparently got to fly overseas because of it being a 'Devils home game'.  MSG did their level best not to make it sound like we were getting a lot of applause in the intros though, even hometown boy Johansson got seemingly tepid applause though I attribute that to MSG's (intentionally?) horrible AV system, which also seemed to be a step behind the play all game.  Having Cangi raise his voice an octave for the goal call on Kyle Palmeri's first minute goal a split second before the video actually showed that he scored was a bit…weird.  Of course at that moment who cared, we scored and had a great first two shifts, looked like all was going to be well.  However, some sloppy passing, bad penalties and one-sided reffing turned the first period into a high tide/low tide type period, with Connor McJesus making captain Andy Greene look silly when he sped around behind the net on the Oilers' first power play, then hit trailer Milan Lucic for an easy goal that tied the game.
Admittedly our first two penalties were legit calls, but clearly (as usual) a high standard only applied to one team early as the refs missed Adam Larsson's roughing a couple seconds before Stefan Noesen took a retaliatory penalty, then Palmieri got called on a highly questionable cross-check later in the period.  Larsson was also involved in another chintzy call against us in the second period when his exaggerated reaction after Brian Boyle touched his ankle led to Boyle going to the box.  Despite being outpenaltied by three in the first, the Devils still outshot the Oilers 9-7 in the first period but Oiler goalie Cam Talbot came up big early after the initial goal.
Fortunately, turnabout proved fair play in the second period as after the Devils finally got on their PP, they scored just as quickly as the Oilers did on their initial PP with Palm getting his second of the afternoon seconds into the man advantage.  For most of the second, the Devils rolled all over the Oilers with Wood's speed leading to a third goal, as he skated more than half the rink to win a loose puck, then found Zajac trailing the play to double the lead in the play of the game.
Other than a squirrely pinch by Damon Severson that nearly led to a 2-on-0 towards the end of a Devils PP and an almost costly misplay by Kinkaid playing the puck in the final minute, the second was near-spotless and the Devils' PK didn't even allow a shot in their subsequent three kills after Lucic's goal.
As far as the lineup went, there was nothing really contreversial despite Bratt's last-minute injury.  Palmieri stays with bromance buddies Taylor Hall and Nico Hischier, Johansson started with Pavel Zacha and Noesen on the second line while Miles Wood, Travis Zajac and John Quenneville made up a new and feisty third line, and waiver acquisition Jean-Sebastian Dea drew in with Blake Coleman and Masterton winner Boyle on the fourth line.  Defensively the pairings were more interesting with Mirco Mueller taking Greene's spot on the first pairing next to Sami Vatanen, while Greene and Severson made up the second pairing.  Ben Lovejoy got the start next to Will Butcher on the third pairing over Steven Santini, who struggled mightily in the preseason.  Finally, Kinkaid started in goal over the still-rehabbing Cory Schneider.
After dominating the second the Devils continued to press for the kill shot in the third, which came due to a new but deadly pairing – Wood and Zajac, with Wood forcing a turnover and Zajac showing unusually deft hands around the net to get his second of the game and make the score 4-1.  Perhaps the only moments of consternation in the entire third period came when Oilers coach Todd McLellan put star winger Leon Draisaitl with McDavid and the duo combined for a 3-on-2 goal to pull Edmonton back within two.  However, the team clamped down and held the lead without much drama, and a glorious finish with Noesen's 185-footer finding the empty net in the final moments to end a convincing 5-2 win that gives us fans a few days to savor being 1-0 and look forward to the home opener against the defending Stanley Cup champs on Thursday.