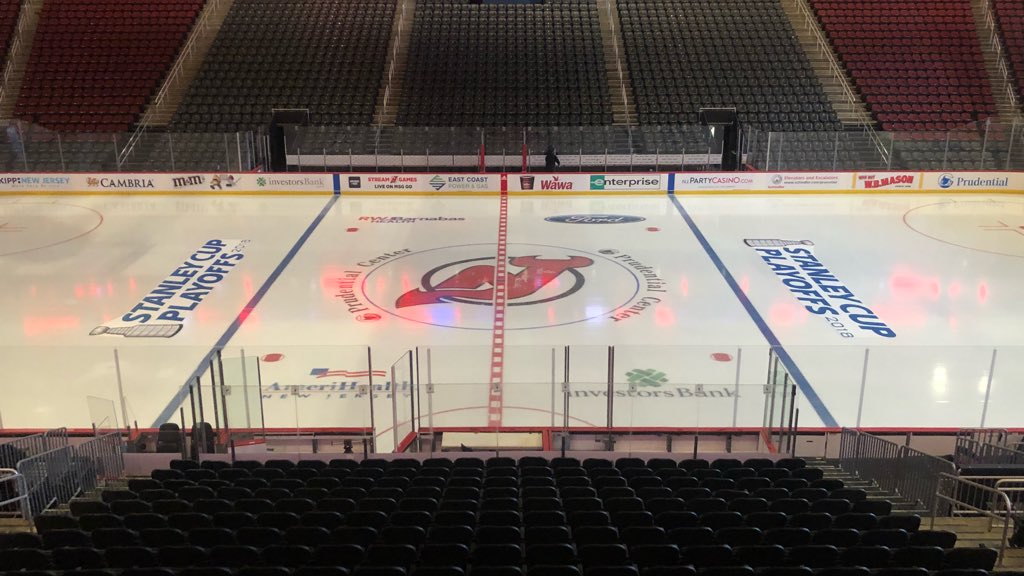 Sometimes just a picture says it all.  It's been nearly six years since seeing a playoffs logo on Prudential Center ice, but here it is again in anticipation for the Devils' home playoff games 3-4 next Monday and Wednesday against the Tampa Bay Lightning.  Newark should be rocking for the Devils' long-awaited return to the postseason, especially considering how perilously close it came to not happening.  With Florida refusing to taper off and winning an unbelievable five games in seven days to end the season, the Devils' margin of error wound up being zero.  As in just one more point lost or one more point gained by Florida earlier in the season would have meant we suffer the current fate of Panther fans and at least tie a dubious record for most points ever by a team that didn't make the postseason.
Like Derek outlined in his previous post, the Panthers have nothing to be embarassed about.  Especially on the ice where their monster second half made at least half the Eastern Conference playoff field sweat bullets.  Although if I'm a Panther fan my biggest annoyance is still with the ghastly offseason trades of Johnathan Marchsseault and Reilly Smith to expansion Vegas and Jason Demers to Arizona more or less for salary relief.  Who knows what the Eastern Conference field would have looked like if their ownership didn't do their best Rachel Phelps imitation in the offseason?  Marchsseault and Smith were certainly two big reasons why Vegas pulled off its shock top seed finish as an expansion team out West and might be the first expansion team to have a serious shot at making the Stanley Cup finals since the NHL's dopey playoff format of the late '60's where an expansion team got an automatic bye into the finals playing the expansion bracket.
Still, despite excellent hockey all around from the Panthers behind them and the Blue Jackets and Flyers who eventually passed them, the Devils didn't flinch – dominating down the stretch when it mattered most, going 10-3-1 in their do-or-die fourteen game stretch culminating in their playoff-clinching win in the penultimate game of the season Thursday night.  Perhaps that's the most impressive thing about this young, upstart Devils team.  They've been playing playoff games for the better part of a month against tough competition.  If the favored Lightning have one main concern going into the series it should be that this team is more than battle-tested in its own right.
Granted, the Lightning are more experienced as a team in the postseason.  It's not like the Devils don't have postseason vets though.  There are more than you think on this roster, including almost all its top defensemen.  Obviously Andy Greene as one of the few holdovers from 2012 has a ton of playoff experience in New Jersey, but Sami Vatanen, John Moore and Ben Lovejoy also have played in multiple postseasons in other cities.  Part of GM Ray Shero's rationale for his deadline deals to bring in Michael Grabner and Patrick Maroon aside from bringing in their various skills, was to bring in another pair of forwards that have postseason experience.  Other than Kyle Palmieri, Travis Zajac (the only other player on the roster to have played in a postseason for the Devils) and heart-and-soul guy Brian Boyle, few of our other key forwards have postseason experience though.  A few guys that do include Marcus Johansson, Jimmy Hayes and Drew Stafford but all three are expected to start the postseason in the press box.
Sure, top forward Taylor Hall, prodigy Nico Hischier and starting goalie Keith Kinkaid are all going to be playing their first postseason game in Tampa on Thursday night.  And John Hynes will be coaching his first postseason game as well.  Experience doesn't always win the day though, as the Lightning themselves well know when an upstart team in 2015 knocked off more seasoned playoff foes Detroit, Montreal and the Rangers on their way to the Finals where they gave the mighty Hawks a series before finally going down in six games.  Nor is experience going to help stop Tampa's loaded attack, which contains no fewer than four forwards and one defenseman (Victor Hedman) who have 60+ points, spearheaded by Nikita Kucherov's 100-point season.  That leads me to the perhaps the biggest difference between the two teams – Tampa's nearly 50-goal edge in goalscoring.
OFFENSE
In fact, Tampa has scored the most goals in the league by a considerable margin with 290, outgunning its closest competitor (Winnipeg) by a full seventeen goals while the Devils finished middle of the pack with 243 goals.  Our forward depth is actually comparable to the Lightning's with ten forwards that have scored at least a dozen goals, and twelve forwards with at least twenty points in what's been a balanced attack outside of Hall.  However, there's a big dropoff between Hall (93 points) and Hischier (52 points) in scoring while the Lightning have five twenty-goal scorers compared to just two for us.  Not to mention six fifty-point players compared to just two for us.  Tampa's top two lines, and keeping them in check are paramount to closing the gap between the two teams and turning it into a hand-to-hand combat series where our role players can make a difference.
It's not just the top two lines where the difference in scoring shows though, it's also among the defensemen.  Their defense has not only outscored ours 48-31 but our leading goalscorer on the blueline (Damon Severson) is likely to start the postseason in the press box after repeated miscues down the stretch lost the trust of Hynes and the coaching staff.   Other than rookie Will Butcher, any offensive production we get from the D is a bonus at this point while Hedman and teen sensation Mikhail Sergachev have to be accounted for, as well as top forwards Kucherov, Steven Stamkos, Brayden Point, Yanni Gourde, Tyler Johnson and deadline acquisition J. T. Miller.  That task will fall to our unheralded but improving blueline
DEFENSE
Tampa has the bigger names in Hedman, Sergachev and the Derek All-Stars (re: ex-Rangers) in Dan Girardi, Anton Stralman and another big deadline acquisition in Ryan McDonagh but New Jersey's blueline improved throughout the year and finished middle of the pack in both shots allowed per game and goals allowed.  Ultimately, the Lightning finished marginally ahead in goals allowed per game (2.85 to 2.93) and marginally behind in shots allowed per game (32.7 to 31.9).  In-season acquisition Vatanen was a big reason for the Devils D's improvement as well as growth from Butcher and a surprising stretch run by Mueller, but they'll clearly face a huge challenge trying to keep pace with Tampa's attack.  Earlier in the season they struggled to do so despite winning two high-scoring games – 5-4 after a shootout in October at the Rock, and 4-3 in another high-scoring tilt in February at Tampa, but completed a surprising series sweep in March with a taut 2-1 win on the back end of a brutal home-and-home that proved decisive in the Devils' postseason charge.
SPECIAL TEAMS
It's a tale of two units for the Lightning, who dominate on the PP with a 23.5% efficiency (finishing third) but struggle on a PK that's surprisingly poor at 76.1% – good for 28th among 31 teams.  For the Devils' inconsistent but improving PP this could be an area to exploit.  For all my kvetching over assistant Geoff Ward and his deployment of personnel and tactics at times, the PP got more consistent throughout the season and finished in 10th place overall at 21.4% efficiency.  Of course like with most other things offensively, the PP ran through Hall who directly scored or assisted on 37 of the team's 54 power play goals this season.  Our PK on the other hand was steady throughout the season finishing in 8th with an 81.8% efficiency, and became a threat – leading the league with twelve shorthanded goals.  New Jersey's PK against Tampa's PP could be the single most important micro matchup of the series other than top defensive pair Greene and Vatanen and checkers Zajac, Blake Coleman and Stefan Noesen against the Lightning's top unit five-on-five.  Of course as with any playoff series, the one-on-one matchup that will determine so much is:
GOALTENDING
Both goaltenders come into this series with huge question marks.  For Tampa's Andrei Vasilevskiy, it's whether he can regain his first-half form after a rocky finish to the season that had Vasilevskiy himself admitting he was tired in his first year playing more than 50 games, while for the Devils' Keith Kinkaid it's a question of how long can this career backup sustain a superstar level that led to his season-saving 16-3-1 run?  Will fatigue eventually kick in for a player that's never played more than 47 games in a season at any level of pro hockey (and that was in 2013-14 at the AHL level, his last season getting a starter's workload till now)?  Should the Devils play seven playoff games, Keith would surpass that plateau after having played 41 games in the regular season this year.  While Vasilevskiy's overall numbers are still better (2.62 GAA .920 Save, 8 SHO) compared to Kinkaid's, Kinkaid's first few months are a distant memory now, since the Devils' overnight sensation has played at an otherworldly level in the last two months as detailed in prior blogs by me and Derek.
COACHING
In his five full seasons as Lightning coach, Jon Cooper has won games at an astonishing rate with a record a full hundred games above .500, and a winning percentage of .617.  Although Tampa hasn't gone all the way to the promised land yet, they came close in back-to-back seasons of 2014-15 (Finals loss to Chicago in 6 games) and 2015-16 (losing in Game 7 of the Conference Finals to Pittsburgh).  After missing the postseason last year, Tampa's locked and loaded for another deep run into Spring, especially with their deadline acquisitions of McDonagh and Miller add to an already deep and experienced core.
On the other side, Devils coach John Hynes is in just his third season and will be coaching in the playoffs for the first time this week, but the likely Jack Adams finalist has done a good job in guiding a young team with few big names to a 97-point season and a hard-fought playoff berth.  Almost any other team would have been sunk if their franchise goalie (Cory Schneider) got hurt and then imploded throughout the second half of the season and certainly their six-game trip across America in March was a defining moment for both team and coach.  Through it all, Hynes struck the right balance between discipline and confidence-building and put everyone in positions to succeed from his younger players to his role players to Hall, who had a career-best season that put him in the discussion for the Hart trophy.
OUTLOOK
Let's be honest, it's hard for a fan to predict a series you have a vested interest in, so to speak.  As happy as I'd be with this season pretty much no matter the outcome, I'm hopeful this series at least gets back to the Rock for Game 6 two weeks from today.  Should that happen, let the chips fall where they may from there.  Though I normally roll my eyes at the just happy to be here cliche, how could you not be as a Devils fan?  They weren't expected to make the playoffs this season but once they got out to a huge lead and held a spot from day one, it would have been a giant dissapointment to blow it and waste Hall's transcendent season.  With the worst-case scenarios gone, the Devils can just focus on playing their best, being loose and carrying their confidence from the regular season sweep of the Lightning into this series.  Not that it will mean anything on the ice, but it can provide an intangible benefit for a young team that will help them not be intimidated by the moment.
My best-case outlook is a 4-2 series win clinching in front of an emotional sold-out crowd at the Rock in two weeks – although I almost see it as more likely to go up 3-2 and lose Game 6, only to win Game 7 on the road which would somehow be a fitting coda to a season that's had many unforseen twists and turns.  My worst-case outlook is losing in five games, but I can't see us going out that quietly even to a juggernaut like Tampa.  Ultimately I at least see something in between the two – a split of the first four games then it gets down to crunchtime and becomes a three game series with an interminable three-day break between Games 4 and 5.  Almost as interminable as the wait between last night and Thursday will be.  Aside from that midseries layoff, the teams will play every other day starting Thursday at 7 PM in Tampa.  Time to get ready for the next roller coaster ride.