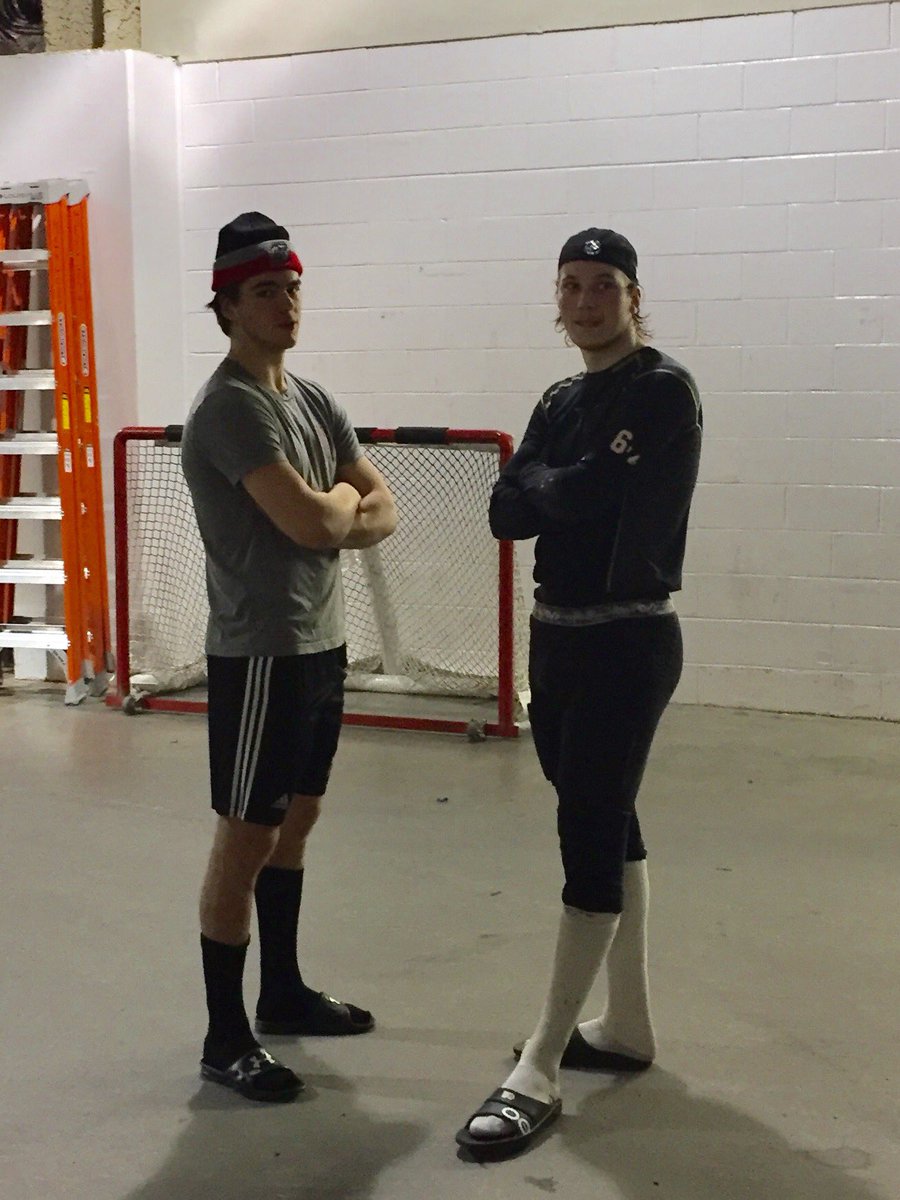 So far things have been the good ship lollipop for the most part in Newark with the Devils surprising the league through their first 35 games, younger players producing and everyone getting along (except fans with each other, but what do you expect from the internet?).  However the last two games have revealed a team that's in crisis mode for the first time, as the Devils dropped their sixth straight game last night in Newark, losing to the lowly – albeit only by Metro standards – Flyers 5-3 coming out of the long bye week.  While you could fairly say at the start of the losing streak the Devils were playing well and not catching breaks, the last two games they flat out blew against division rivals that if you're a legit playoff team you need to win.  Especially with the schedule not getting any easier now that we're finally starting to play other Metro teams more consistently.
I almost – almost – felt bad for Derek last night because it's really our fault that the Isles got going last weekend when we blew a 4-2 third period lead to a reeling rival from Brooklyn and eventually lost in a shootout.  As I feared, that game let them off the hook in the middle of their own losing streak and did get them going again. Ironically, the Rangers were the carnage in the storm yesterday in their brutal Saturday afternoon loss to the Brooklyn team.  Of course with six straight losses I don't have room to feel bad for anyone else right now.  Granted, the Devils are still in good playoff position but there's still too much season left, this team's gotta snap out of it soon and not return to its recent losing ways.  Another of my fears all season was that the team had thrived on the scrappy underdog role but once there started to be expectations, that's when the team would get tight.  To a degree that might be happening now.
Aside from that, this losing streak has brought to light even more the problems we've had on defense all season.  With the offense and goalie Cory Schneider playing well they were able to gloss over the defensive woes in the first thirty-five games, but once both started to sag even a little bit, the defensive woes have been that much more magnified.  For a team that supposedly has defensive depth now, and will have to make more 'tough' lineup decisions when Mirco Mueller comes back – they really don't have any true top pairing defensemen, and forcefeeding guys like Steven Santini and skitzo Sami Vatanen into top-pairing roles has had a negative trickle down effect.  For at least two of the three years under John Hynes, the answer to the defensive issues seems to be have Andy Greene and someone else play the rope-a-dope mode (this year Santini, two years ago Adam Larsson) and just absorb shot after shot providing no offensive threat of their own while hopefully keeping those shots out of the high-danger areas.  However that only works if your top pairing is semi-competent defensively like Greene and Larsson were as a pairing back in 2015-16.
Greene has aged too quickly for this defense to absorb the blow, Santini as an essential rookie really isn't ready for the role he's been thrust into, and Vatanen – well goodness gracious, sometimes he's been a force offensively and a trainwreck defensively, other times he's been decent defensively and invisible-bad offensively.  Although he's shown flashes at both ends of the player he used to be in Anaheim a couple years ago, he's been way too inconsistent at both ends to have a true positive impact.  And those are our 'best' defensemen although if you believe the Corsi darlings it's Damon Severson – who's again found himself in Hynes' chateau bow wow after a series of recent scratches, and for all the talk around shot-based stats he hasn't actually produced enough offensively to offset his defensive airhead moments.
At the moment, it's hard to see where any answers are coming from within.  While John Moore and Ben Lovejoy have actually been better in bottom-pairing roles this season, we've seen them get more minutes and it isn't pretty.  Will Butcher isn't ready physically to take on more of a role than the quasi-one dimensional back pairing guy he is.  And Mueller, while he was playing well the few games before he got hurt, his collarbone injury really set his progress back and it'll be harder finding playing time for him now that we again have eight bodies on D.  It's especially hard to see how this D gets better if Cory continues making more mistakes of his own and regressing to last year's rotted corpse version of goaltending, rather than the version of previous years who resembeled a top ten goalie in the NHL.  Never mind backup Keith Kinkaid who's been mostly awful this year, save a pair of decent-good games against the Rangers and Stars.
I wish I could offer even more of a recap on last night but as luck would have it I had other commitments (going to a friend's dinner party).  I joked to another friend that I wasn't sure what would be more contentious, the dinner party or the game.  Turned out the drama stayed under the surface at the party but is only starting to multiply now with the team.  On the other hand at least the party saved me from going to what turned out to be a trainwreck last night.  Our bye week was supposed to be a chance to reset after five straight losses including the brutal blown game Sunday at Brooklyn but losing to the Flyers at home – and losing two leads in the process – only multiplied the inner doubts that have to be creeping in to a team that's mostly too young to have ever played a real role on winning teams save Greene, Travis Zajac and Brian Boyle.
Of course you can look at our spot in the standings and say we're still in good position given our games in hand despite the losing streak but between our defensive woes, our headcase goaltending and having an offense built around rookies who probably have to hit the proverbial rookie wall eventually, this team can't afford to bleep around with games like last night if they want to actually make a mark this year.  Amazingly enough, last night was the first meeting between top two overall picks Nico Hischier and Nolan Patrick (above).  So far Hischier's had the better year both in terms of individual play and team success but it was Patrick's team who laughed last at the final buzzer.  With another meeting in Brooklyn looming on Tuesday and facing the Caps at home next Thursday things aren't going to get any easier, and this team needs to buck up and buckle down.