One team has advanced. The Ducks quacked their way past the Flames by winning 3-1 at the Calgary Saddledome in Game 4 to complete a four-game sweep. So, my Stanley Cup pick is looking Mighty good right now.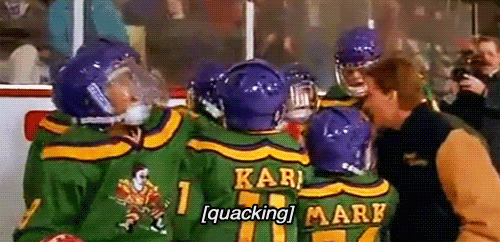 The difference in the series was the elite goaltending of John Gibson along with Anaheim's amazing determination coming back from a three-goal third period deficit to stun Calgary in Game 3 by a score of 5-4. Dominant performances from Ryan Getzlaf (empty net goal for 3rd of series) along with great support from Rickard Rakell along with breakout star Shea Theodore and former Bolt Nate Thompson were too much for the Flames to overcome.
That the Ducks could go to Jonathan Bernier with Gibson pulled in Game 3 and he shut the door allowing for the big comeback with Corey Perry's OT winner shows just how focused this team is. With the Sharks putting up a touchdown and extra point with Jerry Rice cheering them on in a 7-0 rout of the Oilers in Game 4 to even that series, the Ducks have to feel pretty good about their chances. That one is going at least six if not seven. Anaheim will be well rested for the second round.
The Caps found a way to even their much tougher first round match-up against those young and very skilled Leafs hanging on for a 5-4 win at the Air Canada Centre. They can thank T.J. Oshie, who scored his second of the game after Auston Matthews cut the deficit to 4-3. If Oshie doesn't beat ex-Duck Frederik Andersen from a bad angle 59 seconds later, who knows what happens. Washington hasn't exactly been able to hold off the Leafs' offense. They nearly blew another big lead.
Game 3 hero Tyler Bozak made things interesting by scoring with 27 seconds left in regulation. But the Caps did enough to win preventing another meltdown. Braden Holtby needs to be a lot better moving forward. It's also interesting to note that the Caps dominated most of the first two periods. Boosted by a four-goal first in which they held a 15-6 edge in shots and huge territorial advantage, they looked like they would cruise. But a James van Riemsdyk power play goal gave Toronto hope. They outshot the Caps 19-3 in the third. If not for Oshie's huge goal on an awful Andersen, we could be talking about another Leaf comeback and another overtime deciding it.
Game 5 is Friday in D.C. The Caps have all the pressure while the Leafs have none. It's only their playoff livelihood at stake this Spring.
The Wild used goals from Charlie Coyle and Martin Hanzal and Gretel to stave off elimination with a 2-0 shutout over the Blues in St. Louis. It was Devan Dubnyk's turn to pitch a shutout stopping all 28 shots including a cool dozen in a pressure packed third. Jake Allen had to cool off eventually after stopping a remarkable 102 of 105 shots the first three games of a very tightly contested series. These teams are evenly matched. Following the always entertaining Bruce Boudreau's brief post-game following a Game 3 they deserved a better fate in, I figured they would win Game 4 and take it back to St. Paul.
I fully expect the Wild to win at home and force the series back to St. Loo for Game 6. How about this huge clean hit by Blues defenseman Alex Pietrangelo on Zach Parise at the end of tonight's game!
Classic playoff hockey intensity. Pietrangelo is a true defenseman. He just doesn't receive the credit of other brighter stars. Maybe if the Blues make a run, he finally will. Especially with Kevin Shattenkirk gone and playing so little for the Caps with the awful Brooks Orpik.
Game 3: 23 shifts 16:27 -2
Game 4: 18 shifts 12:54 -1 assist
Buyer beware. Though being paired with Orpik isn't ideal for Shattenkirk, who should still receive plenty of cash this summer. <inserts Rangers> He's not perfect but is a great skating D who can run a power play with a big shot. Yeah. They're gonna try to buy him on July 1. But hopefully not at the expense of the bruising and gritty Brendan Smith. He needs to be kept.
So, the Senators are now up 3-1 after sweeping Games 3 and 4 in Boston. Sure. They benefited from a bad call to take Game 3 on what should've been matching minors. Ironically, a resurgent Bobby Ryan got the overtime winner on a neat deflection. He again was at it getting the only goal in a 1-0 Game 4 shutout win. Craig Anderson only had to make five of his 22 saves in the third. In fact, he faced just 10 shots the last two periods. Wow.
Of course, #BigGameBrass is back in a big way for the Sens. Now that it's the playoffs, here comes the real Derick Brassard. You know. The one who led the Blueshirts in scoring during those big runs in 2014 and 2015. Not the first round Brass from a forgettable series against the Pens last year. Brassard has two goals and three assists in four games so far. Of course, he set up Erik Karlsson's awesome shot pass to Ryan in front for the only goal Wednesday night. Big Game Brass! Gotta love it.
Truth is Boston doesn't have enough on D right now. So, my sleeper pick to make the Conference Final looks on the way out. No Torey Krug and no Brandon Carlo has really hurt them. But Charlie McAvoy is a future star on the back end. He played over 25 minutes leading the B's in ice-time while paired with captain Chara. They had a goal wiped out on a Carlo shot that was redirected by Noel Acciari due to a successful coach's challenge from Boucher for offside. It was indeed offside. I still hate the challenge system because it takes so much flow away from the game. It's just too long a process.
Here's a key stat. Bergeron, Marchand and Pastrnak each with only one goal. If Boston wants to extend the series when it shifts to Ottawa, they need their best scorers to do it. Ottawa remains one of those teams you don't want to face due to their grinding defensive style. Plus they have the skaters who can expose you on turnovers such as Mike Hoffman, Karlsson, Brassard along with eerily quiet Kyle Turris and Mark Stone. Yet they're in a winning position due to Ryan.
It's Game 5 in Montreal later tonight at Bell Centre. Rangers and Canadiens in what's been the most fun series. Between the whistle stuff. Legal. Illegal. Lot of dirty too from those Habs. But it's definitely not dull. These teams hate each other. Les Canadiens want to win desperately. They face the pressure with the series tied 2-2. Price and Lundqvist giving a great show. It should be a good one! 😀