It's not that he's not a good coach. In his fourth year behind the bench of the Rangers, Alain Vigneault has already earned a extension with the organization rewarding him with a $2 million raise that would take him through 2020.
Truth be told, he's done a good job. In his first season, the Blueshirts made their first Stanley Cup Final since that thing happened when I was a teenager in high school. Consecutive comebacks from 3-1 series deficits in tough second rounds and two straight Conference Finals along with a President's Trophy are the highlights.
The team plays a more exciting style under Vigneault than they did under John Tortorella. A coach I still hold in high regard. He does it differently. They are polar opposites. Both successful at their jobs. One having won a Stanley Cup while the other has come up short twice with two different franchises.
It goes without saying that Vigneault is more buttoned down than Tortorella, who wears his emotions on his sleeves. Full credit to him for toning it down while rebuilding a very good young team in Columbus. Vigneault always talks about sticking to the system and their structure. Here is the latest example before tonight's game versus Buffalo:
"Execution. One shift at a time. Respecting our structure with or without the puck and we gotta compete every shift. And that's what we're gonna do tonight."
This is basically classic AV. He always says this along with the usual "we got our looks" following a loss. It's who he is. He's not gonna deviate from who he is. He loves emphasizing team speed and transitional play leading to offense. It's worked with the Rangers entering the second highest scoring club behind only the defending champion Pens.
A stronger core up front that now includes top finisher Michael Grabner along with gifted rookies Pavel Buchnevich and Jimmy Vesey have made them deeper. Not having Kevin Hayes for a while hurts. Can anyone explain why Buchnevich finds himself on the fourth line? He's now basically traded places with Vesey, who went through a rough patch before scoring in the 6-4 loss at home to the Blue Jackets. Trading Places is a classic movie. Who doesn't love Dan Akroyd as Winthorpe and Eddie Murphy as Valentine in the 1983 comedy?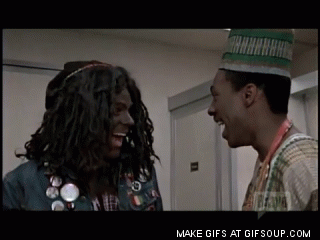 But for Ranger fans, it's Groundhog Day literally. It really is today. The groundhog Chuck out here in Staten Island didn't see his shadow. So at least there's that. An early Spring would be welcome. Even if winter hasn't been too bad. Hopefully, that trend continues. We usually get hit hard around this time. So, keep your fingers crossed.
In the postgame the other night, ESPN Radio's Don LaGreca concluded that the Rangers could use more personality. He feels they're too businesslike. He might be right. But Vigneault leaves most of it to the locker room. So, when things go bad, he lets leadership handle adversity. That's why it was so discouraging to see Henrik Lundqvist take only one question before exiting the room after giving up three goals on 16 shots before being replaced by Antti Raanta. The well spoken Finn didn't have much better luck giving up another three in another Ranger second period implosion.
Congrats to Raanta on the birth of new daughter Evelyn. At least he gets away for a day. That means Magnus Hellberg returns to back up. Good news for Hank? He did play better when Raanta was out.
Raanta probably is glad he didn't make the trip to Buffalo. The Sabres have already beat the Rangers twice. The last one one of those MSG no shows we've grown accustomed to. The Rangers have been very mediocre going 8-8 in the last 16. They still have a nice hold on the first wildcard leading the Flyers by seven with nine more ROW and one game at hand. The Maple Leafs are eight behind with 55 points and still have 34 games left. The Panthers have 54 but don't look like a threat having given up 20 more goals and played 51 games. The streaking Islanders are the team to watch with 53 points and only 48 games played.
After that, no other team can be looked at as a threat. Not even the schizophrenic Lightning. That's how bad it's gone down in Tampa. Maybe they should be sellers. And this sure looks like the year Detroit finally misses.
So, who are the 2016-17 Rangers under the gum chewing stoic Vigneault in Year 4 of now 7 thanks to team brass? Are they capable of being a playoff threat? Or is this who they are? An inconsistent bunch who always say "We'll get 'em next time" or "We have to be better." Isn't it about time someone shows a little bravado? There's no Sean Avery coming.
Maybe that's why my father and brother can't stand watching this team. There isn't any personality. When players are knocked down, there aren't going to be many retaliations. It's not how they're coached. Nick Holden took up last game going back at Brandon Dubinsky. Kevin Klein will on occasion. J.T. Miller and Chris Kreider are the likeliest candidates of the forwards.
This team is in desperate need of a change. I'm not suggesting blowing it up. I am not even suggesting making a splash before that Feb. 28 deadline. It's Feb. 2. A short month. A lot can happen in 26 days. Tonight's the first game of the month for this team. They have a lot of home games before hitting the road. They have to stand up and protect home ice. Now that the Islanders have Doug Weight running it, they are doing that and beating good teams. Even if Barclays Center doesn't want them. Hypocrites.
Would it kill Jeff Gorton to get a player like Antoine Roussel? Not like the Stars would trade him. But that's the type of character player this team lacks. I kind of wish Kreider was more like Brad Marchand. Yes. He's a prick and cheap shot artist who the league again let off the hook. But he is a very good player who makes things hard on opponents and scores big goals. Kreider btw is on pace for 30. He has 19. This could be the breakout year we've been waiting for. And he does play tough in front of the net and mix it up.
Rick Nash is a terrific overall two-way player who isn't going to do that stuff. He's poetry in motion when on. Scoring some of the prettiest goals. He is defensively responsible. Much more so than when he arrived in a tumultuous Year 1 under angry Torts.
Derek Stepan is always at his locker talking to reporters after bad losses. He talked about how they have to prevent these 10-minute naps. Or was it sleeps. They're basically the same. He seems like the true leader of this team. Nothing against Ryan McDonagh, who says all the right things at his locker. But I never envisioned him as a captain. He reminds me of Brian Leetch. Some guys just aren't cut out to be captain.
So, what will change tonight? Will the Rangers remember to skate with the Sabres and not get sucked into a track meet? Will they stop taking chances and leaving the front of the net for target practice for the likes of Eichel, Kane, Okposo and O'Reilly? I already have this game penciled in as a loss. Prove me wrong fellas.
If it gets ugly, you can always flip to AMC and watch Groundhog Day with my favorite Bill Murray as Phil seeing his collective shadow on repeat. Plus the wonderful Andie MacDowell as Rita. ❤