The Rangers dropped their second in a row falling 3-2 to the Panthers in a shootout at MSG. Rather than do a game recap, I'm just gonna do a quick summary and post some observations on why they were unable to beat a team playing for a second consecutive night.
Chris Kreider started the scoring by netting his first goal since Oct. 17 against the Sharks. Neck spasms cost him six games. So, it took a while for Kreider to find the back of the net. On an absolutely perfect feed from USA buddy Derek Stepan, he faked before snapping a laser past Florida backup James Reimer high to the stick side. Just a wonderful shot by a supremely skilled big man. Marc Staal picked up the secondary assist.
Playing in a back-to-back, the Panthers didn't have much to offer in the first period. Outshot 14-5, they hung around thanks to the goaltending from Reimer. He made some timely saves to give his team a chance. A turning point came when the Rangers failed to capitalize on a abbreviated 23-second two-man advantage. They lost the special teams battle misfiring on three power plays while allowing a power play goal in four chances.
The Panthers got their legs back in the second period. Playing on more even terms, they were helped out by a slew of Ranger penalties. First, rookie Brady Skjei took a minor for covering up the puck. They described it as concealing the puck. Needless to say, the Ranger penalty kill failed.
Former Ranger Keith Yandle obliged by scoring his first goal as a Panther from Vincent Trocheck and Aleksander Barkov at 14:43. His left point shot went through a perfect screen in front past Henrik Lundqvist. Kevin Klein didn't do a good enough job taking the man. By the time Lundqvist picked it up, it was too late. Maybe it was appropriate that Yandle would score in his return. He was a good Ranger. That some fools booed him was ridiculous. The guy lasted a year and a half and was never going to re-sign. Fair weather fans.
To make matters worse, Kevin Hayes wildly bumped into Reimer for a needless goalie interference minor with 4:11 left in the period. It was a silly penalty to take. Even though he was bailed out by the penalty kill, Lundqvist had to deal with some tough chances in tight. He really played well after his off night on Friday at Columbus. He made a lot of big saves. None better than twice robbing ageless wonder Jaromir Jagr with the game tied with under 10 minutes left in regulation. Lundqvist wasn't to blame for tonight finishing with 28 saves.
The Rangers came out well in the third and took the lead thanks to some wizardry from Mats Zuccarello and a fortuitous bounce for Mika Zibanejad. On a strong shift down low, Zuccarello had the presence to center a backhand pass across the goalmouth to Zibanejad, who had the puck go off his skate and in. That made it 2-1 at 1:45. The refs delayed due to a video review to see if it was kicked in. Initially, I wondered if Skjei might have interfered with Reimer. But that wasn't the case. It was a good goal giving Zibanejad goals in two straight and six points over his last six.
But penalty trouble continued. Right after the goal was announced by MSG PA announcer Joe Tolleson, Skjei took his second minor. Even though they survived another dangerous Florida power play, it really killed the momentum. It was all Panthers afterwards. Using their aggressiveness and speed on the cycle, they really punished Nick Holden, who struggled mightily. He and Staal had a tough night.
As Lundqvist noted following the game on MSG Network, he felt that the Panthers really lifted their game following a nothing first. They won a lot of battles. The scary aspect is they're still without Jonathan Huberdeau and Nick Bjugstad. Right now, they're just hanging in there on the brilliant play of Roberto Luongo and for one night at least, Reimer who was sensational making 33 saves.
Their relentlessness resulted in Ekblad tying the game with 12:06 remaining in regulation. On a good forecheck from Trocheck, he took a Jakub Kindl pass across the blueline and let go of a wrist shot that took an unlucky bounce off J.T. Miller past Lundqvist. It was one of those plays MSG analyst Steve Valiquette talks about. To block or not block. If Miller gets out of the way, Lundqvist probably gloves it. Maybe the Rangers win. He didn't and it took a crazy hop resulting in a 2-2 score.
Brandon Pirri took his own bad penalty when he played baseball by swinging and connecting with the puck and hitting it foul. Initially, the refs weren't going to call it. But after getting together, they determined that it was delay of game. It resulted in some more pressure from the Panthers. Thankfully, the penalty kill got a couple of key clears to keep the game tied.
Jagr had the game on his stick. On a Dan Girardi turnover, the Stepan line got caught napping. Nobody took a wide open Jagr in the slot. He was 15 feet away and had all day to fire that patented wrist shot. Thankfully, Lundqvist got just enough to keep it out. He then had to deny Jagr on the rebound. That was the type of game it was. The Panthers got to loose pucks and made it difficult for Henrik who played his 700th game.
The 3-on-3 overtime can best be summed up in one word. Disaster. It struck literally when 43 seconds in, a backchecking Zibanejad collided with Reilly Smith, sending the center flying into the back boards. What made it worse was how he landed with his leg in a terrible position. Right away, I knew it was a serious injury. He needed help being taken off the ice and couldn't put any weight on it.
My guess was we wouldn't see Zibanejad again until next year. How unfortunate I was to be right. Afterwards, the update from the Rangers was that he fractured his fibula and will miss between six to eight weeks. A broken leg. What a shame. He was really starting to heat up. Now, the Rangers will be minus one of their top six forwards. Zibanejad isn't only one of the top point getters. But he's also solid on draws. On the night, he dominated going 17-and-7. Now, the big right-handed center with the deadly shot will be sorely missed.
But as Alain Vigneault pointed out in the post game, "Every team has injuries." He added, "It's a chance for someone else to step up."
The overtime only produced three shots with Hayes coming very close to winning it on a wraparound. But Reimer made a sprawling save.
In the shootout, the Panthers outscored the Rangers 2-0 on goals from Trocheck and Barkov. In Round 1, Trocheck waited before picking five-hole on Lundqvist. After Pirri missed against Reimer, Barkov wrapped it up in Round 2 with a highlight reel goal. He has an array of moves and put them on Lundqvist before attempting the Forsberg with Lundqvist getting a piece of it. But the puck had enough momentum to roll past the red line giving the Panthers a well earned win.
Here are some Random Thoughts: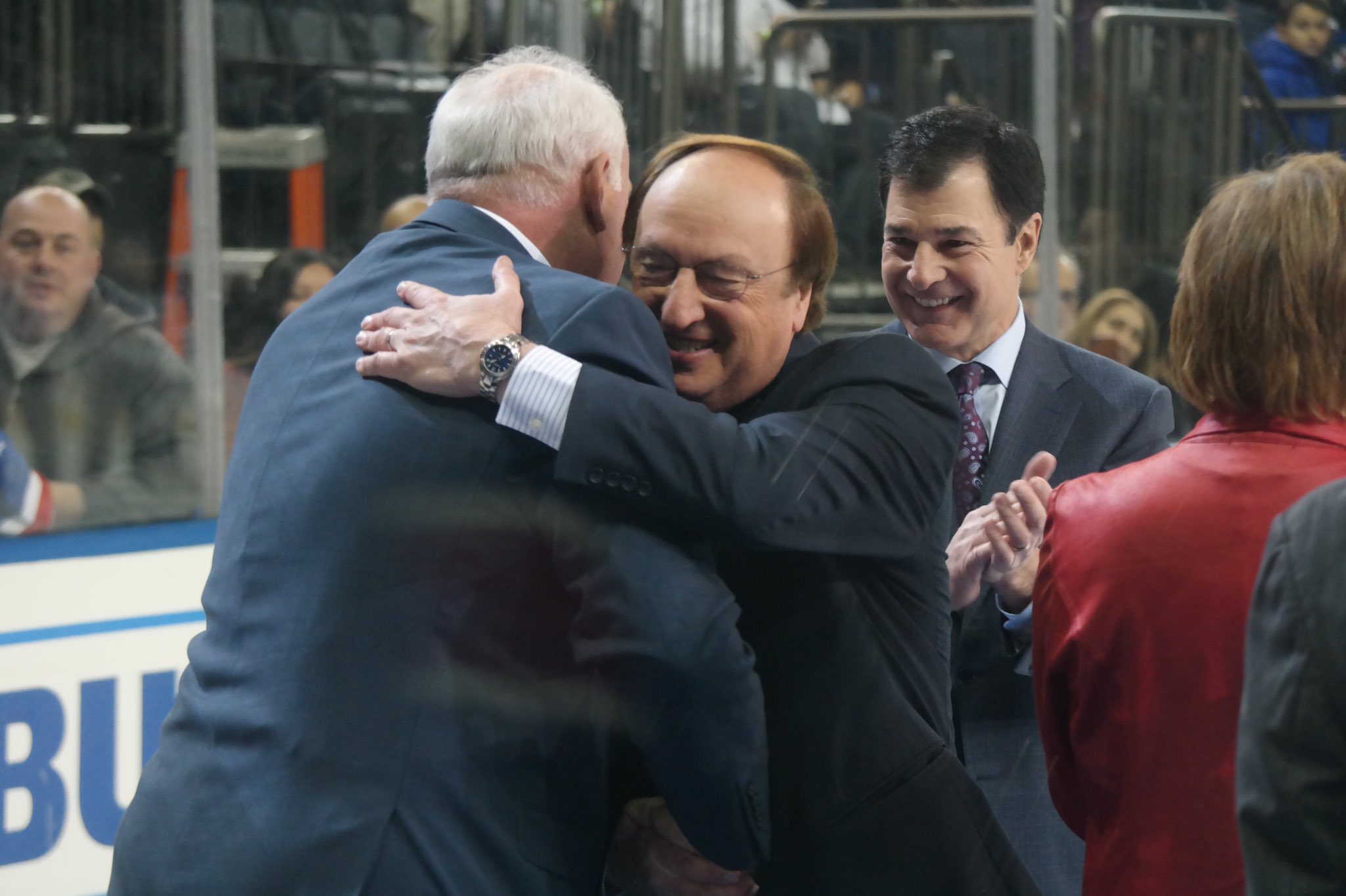 –Sam Rosen was properly recognized by The Garden before the game for his induction into the Hockey Hall of Fame. He deserved the Foster Hewitt Award and it definitely will last a lifetime. It was nice to see old partner John Davidson on the ice for the pregame ceremony along with Joe Micheletti. Sam and JD were the best in the game for so long. I give Micheletti a lot of crap. But he's done well in his 11 years.
-In one of the most emotional and touching moments at MSG, the Rangers introduced former FDNY Deputy Chief Michael Fahy's wife and children who were in attendance to see the game. It was really something. Everyone got up and stood giving her and the kids a standing ovation. Her husband and their father was a true hero. When it comes to these kind of tragedies, nobody rallies around it better than New Yorkers. We appreciate what our firefighters and police officers sacrifice every day. If you didn't feel something at that moment, you never will. Some things are bigger than the game. This was. A great job by The Garden and Rangers to recognize them.
-Overall, the Rangers just weren't emotionally invested. They lacked something. I had this pegged as an easy 5-2 win, figuring the tired Panthers would wilt. But they didn't take advantage of early chances. If you let a team hang around, sometimes you pay for it. At least the football Giants didn't despite our coach's predictable fourth quarter offense. Thank god for Landon Collins.
-At five-on-five, the Blueshirts weren't as effective. When it's the fourth line that's generating consistent shifts with reinserted Josh Jooris getting a couple, that just won't cut it.
-They did have one great chance to go back ahead and win it. Rick Nash had what looked like a wide open net. He patiently waited and seemed to have Reimer down and out. But a desperate Reimer got his goalie stick on Nash's forehand sending it wide. Ironically, the puck came to Kreider, who was on his backhand. But he was unable to bury it. I thought for sure he would. But it didn't come.
-My favorite part of the game was sitting next to a fan who doesn't always get the chance to come. He was there with his family which included three sons including one who was celebrating his 10th birthday. They were a delight to sit next to. The 10-year old almost called the winner taking Nash before the third. If only he could've scored. He's been cold lately. I think he'll get off the snide soon.
-I mentioned Holden's struggles. This just wasn't a good match-up for him. He was forced into turnovers. The Panthers were very physical. Their speed and wall game allows them to get in quickly. That's the book on the Ranger D. Finish checks and force them into mistakes like the one Girardi made.
-Vigneault leaned heavily on Ryan McDonagh, who logged over 26 minutes with three shots, two hits and two blocks. It'll be interesting to see how much he has left for the Penguins tonight in the first of a home-and-home series with the rematch at MSG on Rivalry Night.
-Aside from the penalties, I like what I see from Skjei. He was in front creating just enough of a distraction on Zibanejad's goal. He got 17:35 in 23 shifts. Eventually, his time should go up. There's no question he's the second best defenseman behind McDonagh. They trained together in Minnesota over the summer. Just imagine if Vigneault could pair them together. Opponents would never get the puck. But he can't. Skjei needs to be on the second pair. Especially with Kevin Klein struggling.
-With Zibanejad out, this means Oscar Lindberg returns to the lineup. How much will AV play him? He never gets anything other than shifts at even strength. The coach has been reluctant to use Lindberg more than liberally. He will play on the fourth line. Does Jooris stay in? Is Cristoval Nieves back up tomorrow?
-The loss of Zibanejad means one thing. Stepan must step up his production. The assists are fine. He notched his 10th on Kreider's tally. But two goals in the first 19 isn't enough from the top center. Nash has also cooled of late and is stuck on seven markers. Your best players need to be your best.
-I see no other logical solution than to shift Miller to center. He can center the third line. Hayes the second. Maybe have Miller play with Jimmy Vesey and either Michael Grabner or Pirri. In this situation, Vigneault prefers to use Jesper Fast in a top nine role. Or maybe keep Miller with Hayes since they have great chemistry. They could have Pirri center the third unit which would leave Lindberg or Jooris for the fourth line.
-I'm most curious to see the line combinations AV comes up with.
-With the visit to Pittsburgh for the first game and the return match Wednesday, it'll be interesting to see how they respond to a little adversity. The Pens are playing very well. Sidney Crosby is tied for the league lead in goals (12) despite missing time. He's been on fire. Evgeni Malkin has also played well as has Phil Kessel.
–Antti Raanta gets the nod in Pittsburgh Monday night. Unless Matt Murray is ready to return, it'll be Marc-Andre Fleury who gave a great performance in a 2-1 shootout loss at Buffalo. More on that in another post.