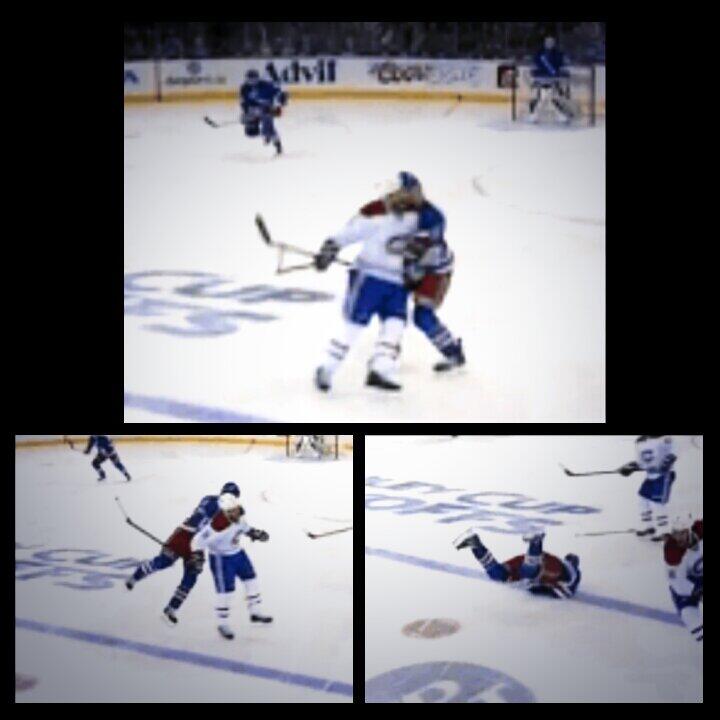 The NHL has suspended Brandon Prust two games for his illegal hit on Derek Stepan in Game 3. On the controversial play, Stepan suffered a broken jaw. The Rangers have listed him as day to day.
The full explanation of the suspension emphasizes that Stepan had already released the puck and took two steps away from Thomas Vanek when Prust blindsided him. As has been noted, he had enough time to avoid Stepan but instead delivered an illegal check that made contact with the chest and jaw. This is interference. Let's examine it further.
Based on Rule 56.4, a major penalty can be assessed if the referee interprets the degree of violence as such. Rule 56.5 states the guilty player can be given a Game Misconduct Penalty. If it's ruled a major penalty due to the foul resulting in an injury to the opponent, a game misconduct shall be imposed. In Prust's case, it should've been an interference major and game for his deliberate attempt to injure Stepan. Instead, the three referee tandem of Marc Joanette, Kevin Pollock and Wes McCauley missed it entirely. Linesmen Steve Miller and Scott Driscoll must've been sleeping.
Here's the long and the short of it. The Rangers should've been on a power play. Instead, no call was made. To their credit, they continued to press the attack and took a 1-0 lead to the locker room. However, they didn't take full advantage of a sloppy period from the Canadiens. Who knows how it would've played out. The bottom line is they had an opponent on the ropes and let them off. Game 4 looms large.
What's frustrating is the lack of consistency from the NHL. By all accounts, the officiating was abominable. There was more than one tweet about how substandard it was for a Conference Final. At this critical juncture, that shouldn't be the case. The refereeing should be secondary. Last round versus the Pens, it was. They actually did a good job allowing the teams to decide it without missing many blatant infractions. Like the hockey, the officiating standard is supposed to go up. It hasn't.
Even more baffling is that the explanation for Prust's suspension would seem to indicate that he deserved more games. Granted, it's only the second time he's been suspended. However, he had every chance to avoid Stepan. So much for his motto, "accidentally on purpose." Only because Stepan was able to return and play so well did Prust get off light. Plus the Rangers played a little gamesmanship to try to get more games. It wouldn't surprise anyone if Stepan returned Sunday and played with a caged helmet. Maybe he can put on his cape and pay back Prust on the scoreboard.